Magic Ears is an online interactive language teaching platform founded in 2016. Initially, they operated exclusively out of Beijing China, but have since expanded their operation to ZhengZhou, China, and the United States, with a new office located in Nashville, Tennessee.
Magic Ears has a very efficient platform where a single tutor teaches four students simultaneously, a setup which has helped them lower costs to better serve lower- to middle-income families, and make the learning experience more interactive and fun for both tutors and students.
Their website utilizes state of the art technology to create a more user-friendly experience, and they try to foster a work atmosphere in which tutors are encouraged to help and support each other.
Working For Magic Ears
The two biggest differences between Magic Ears and other ESL platforms are the four student virtual classroom setup, and the curriculum, which is apparently very easy to teach, allowing tutors a lot of creativity and room to cultivate a unique teaching style, while still giving them plenty of guidance.
Most tutors I found online were also impressed with the slick web interface, as well as the community trainings on the platform which make it easy for newbies to get help from more experienced tutors.
At the beginning of each month, you log in to Magic Ears as a teacher, select which times you are available throughout the month, and they system automatically books you for classes. This means you don't have to promote yourself, which should remove a lot of stress from the process.
Magic Ears has a ranking system for tutors which determines how much work they can get. When you first start, you'll have to go through a brief trial period, during which your schedule will be somewhat sporadic. But once you've successfully completed 10 sessions, the restrictions are lifted, and you're able to put in a lot more hours.
One key point that's stressed in the company's hiring literature is the generous amount of work available. Everyone gets bookings, usually at least a few every week. As you become more experienced and prove yourself, the number of bookings will increase.
For those of you who would prefer a more stable schedule, Magic Ears has recently added a new feature called "Homeroom Classes." Basically, these allow the same teachers and students gather together at the same times every week. The idea is that the teachers get to know the students, and the students get to know each other, creating a more consistent and enjoyable learning environment.
Magic Ears Pay Rate
Magic Ears tutors are paid from $18 to $26 per hour, which puts them well above the average compared to other ESL platforms. Payments are delivered via Paypal or direct bank transfer, depending on your preference.
Scheduling at Magic Ears
The company has no minimum hour requirement for tutors, and it looks like you can choose, for the most part, when to put your time in. But, as with most sites like this, certain hours are much better for making money than others.
For US workers, the peak period is from about 7:00 am EDT to 9:00 am EDT, so if you want to do well with Magic Ears, it'll help to be an early-morning person.
If you decide to participate in the new "Homeroom Classes" program, you will have a very specific schedule, which some might prefer for a number of reasons, including more consistent weekly earnings.
Requirements to Apply
Magic Ears is looking for people in the US and Canada who've either attained a bachelor's degree or are currently enrolled in college. You'll also need a quiet, clean place to teach, with good lighting conditions to help optimize camera performance.
Tech Requirements
Tutors are expected to have a strong Internet connection, and a decent computer with a camera and a headset.
Magic Ears Application Process
To apply, simply go to their website and fill out the online form. If selected, they'll show you an introductory video demonstrating how the platform works, then you must attend a 30 minute training session, and teach a 25 minute class to real students.
Assuming you pass all the tests with flying colors, they'll put you through a background check which takes three to five business days to process, and ask you to sign a contract agreeing to work for six months.
Feedback
I used Glassdoor to find reviews from current and former Magic Ears tutors.
The site currently has an average of 3.7 stars, which is pretty good for an ESL company, and most of the reviews are extremely positive. Tutors seem to enjoy the four-student classroom setup, and the curriculum is easy to work with.
It can apparently take some time to build your ranking up enough to start getting a large number of bookings, but it sounds like this is a really good job once things get going, so it's probably worth the wait.
How to Get Started
If you like the sound of everything above and want to try for a virtual tutoring job with Magic Ears, go here to read more about the company and put in your application.
Good luck!
For 300 Flexible, Non-Phone Work at Home Jobs: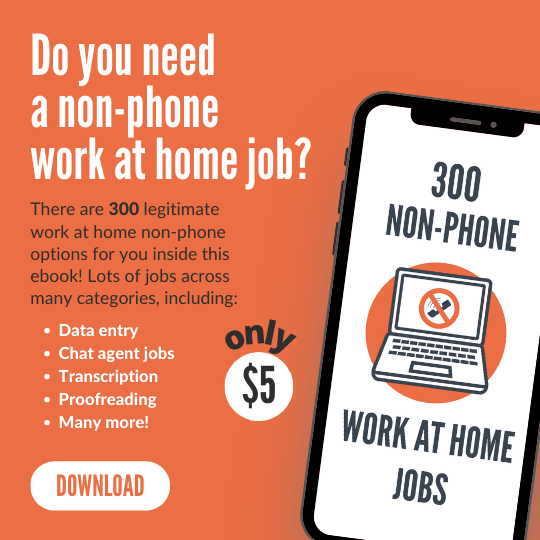 Do you want to work at home but you can't do so using a phone? If so, I have some great non-phone options for you in this ebook. It is only $5!
In this book, you'll find links to 300 companies offering different types of non-phone work at home jobs, including:
Data entry
Chat agent operators
Freelance writing
Transcription
Proofreading
Bookkeeping
Search evaluation
Many more!
Each job listing also has a short summary with any relevant information I can find (pay, what countries it may be open to, etc.).
Good luck to you, and I hope you find this ebook helpful if a non-phone job is what you are looking for.
After payment, you will receive the email containing your download.