Even though I have a work at home job, I still love earning extra money. And I guess that's clear because I do often post ways to earn extra money on this site.
However, there are a lot of things that are simply a waste of time, even for extra money. In my opinion, these five opportunities are well worth it (and also fun to use) if "real" extra cash is what you need:
1 – Swagbucks
In the vast sea of online reward sites, Swagbucks is always a head above the rest.
They've been around since 2007 and have an excellent reputation. You can log in any time and earn SB (virtual bucks) to answer surveys, fill out offers, search the web, watch videos, and much more.
I have personally been a member of Swagbucks since they started, and I've been paid many times. They have a ton of options to redeem your SB, but you'll generally get the most value by going for the $5 Amazon codes they offer. These can add up fast!
You can use Swagbucks either on desktop or on your mobile phone. It is a super fun site that I've always enjoyed.
2 – Slice the Pie
At Slice the Pie, you rate music you hear and then write short little reviews. I signed up a long time ago and thought it was fun, but I was really busy with other things and didn't do much with it.
I've started doing it more and more because it seems as if it's paying better now (I average around .17 to .19 cents per song).
If you're new to the site, you probably won't be making that much to start with because the higher your level, the more you can earn. So you'll have to participate for a bit before your rate per song is that high.Another bonus, Slice the Pie is also a great way for teens to earn money online!
3 – UserTesting
You can sign up with UserTesting and get paid to leave your honest feedback on websites. There are webmasters galore who desperately need outsiders to tell them how user-friendly their sites are.
UserTesting will pay you $10 per test, and each test only takes about 20 minutes to do. Payments are made via Paypal after your tests are submitted and then approved (usually takes a few days).
One minor problem with this one is that tests aren't always available. And when they are, you have to be extremely quick to grab them before they disappear.
4 – Amazon Mturk
I used to think Mturk might be a waste of time, but it's really not that bad if you know which HITs are worth doing.
In case you aren't familiar, Mturk is a site powered by Amazon.com where you can sign up as a worker and browse through their massive list of short tasks to do.
There is literally everything from transcription to writing, data entry, and everything in between.
A lot of stuff you'll find isn't worth it, but if you keep looking you'll almost always find a few that are.
Payment is made either to your bank account once you have accumulated $1 or you can just use the money and spend it on Amazon. You only need one dollar to do that.
We wish you lots of good luck if you try any of these.
For 300 Flexible, Non-Phone Work at Home Jobs: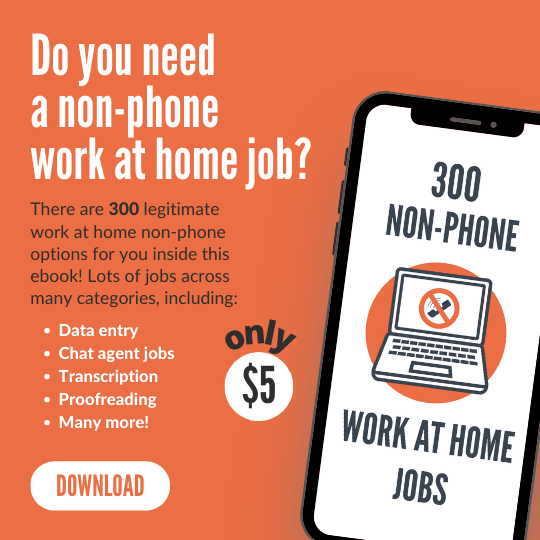 Do you want to work at home but you can't do so using a phone? If so, I have some great non-phone options for you in this ebook. It is only $5!
In this book, you'll find links to 300 companies offering different types of non-phone work at home jobs, including:
Data entry
Chat agent operators
Freelance writing
Transcription
Proofreading
Bookkeeping
Search evaluation
Many more!
Each job listing also has a short summary with any relevant information I can find (pay, what countries it may be open to, etc.).
Good luck to you, and I hope you find this ebook helpful if a non-phone job is what you are looking for.
After payment, you will receive the email containing your download.