Direct sales is definitely not for everyone. Doing well requires lots of hard work, dedication, and it also goes without saying that results will vary.
However, I do personally know several people who are doing well with direct sales. I also realize that there are many people who would like to try their hand in direct selling but may be a little afraid to take the risk because there is a fee for the starter kit of items needed to get going.
Fortunately, not all direct sales companies are created equally. There are many that are actually free — or at least very cheap — to get started with. If you would like to see how well you could do at direct selling, these are companies you can try out with minimal financial risk.
Free to Start
PartyLite Candles – This is a candle company where you can start your business at no cost by having a party at your home with at least $350 in sales. If you do not hold a party or generate $350 in sales, the kit costs $99.
Fuller Brush – You sell Fuller brand cooking and cleaning supplies. While some of the start up options require you pay a fee, they do have a $5 information kit, too.
Cheap to Start
Kat's Coffees – This one is just $5 to start. You are selling coffee, tea, and condiments.
Heritage Makers – Online publishing and digital scrapbooking. They have a $25 consultant e-welcome kit. Note that this kit does not contain products. The kits that contain products are far more expensive.
Noevir – Selling beauty/hair care products. Get started for $25. Earn 30 percent commission on sales.
Bella Branch – They have an affiliate program that is free where you can get 25 percent commission for referring people to buy their jewelry. They give you your own personalized website to use for sales which costs $32.90 for the first month, then $12.95 for each month after that.
You can find a ton more opportunities on this big list of direct sales companies.
Please keep in mind I cannot personally vouch for any of these companies. You will need to read ALL the fine print before signing up to be a consultant.
There could always be "hidden" fees, so make sure you are fully aware of the all the details before you pay anything and register.
It's also a good idea to do some Googling first to see what other consultants and/or customers have to say about the company you're considering and their products.
If the company you want to join isn't affordable, keep tabs on them. Sometimes they'll offer special promotions for potential consultants so you can get started cheaper.
You may also be able to find an existing rep who would be willing to sponsor you or help you earn your kit in some way, so that's another thing to think about.
For 300 Flexible, Non-Phone Work at Home Jobs: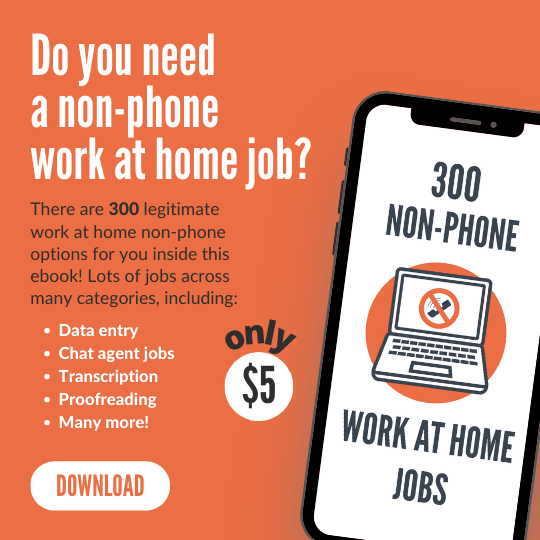 Do you want to work at home but you can't do so using a phone? If so, I have some great non-phone options for you in this ebook. It is only $5!
In this book, you'll find links to 300 companies offering different types of non-phone work at home jobs, including:
Data entry
Chat agent operators
Freelance writing
Transcription
Proofreading
Bookkeeping
Search evaluation
Many more!
Each job listing also has a short summary with any relevant information I can find (pay, what countries it may be open to, etc.).
Good luck to you, and I hope you find this ebook helpful if a non-phone job is what you are looking for.
After payment, you will receive the email containing your download.