Connect and Sell is a company offering an interesting little work from home position. What this company has you do is connect phone calls for business to business/sales companies.
This frees up time for busy salesmen because when a call comes through to them, the customer they were trying to reach is already on the line, waiting to speak to them.
You contact the customers and then when someone is on the line, patch them through to the salesman. But you don't actually have to talk to anyone, apparently it is all automated.
For more details on this position, you can read through the old job posting I copy/pasted below:
Using our on-line tool, Experts will initiate outbound calls to prospective customers and ask for the listed contact. Once the customer comes to the phone, the Expert will immediately transfer the call to the appropriate sales professional. Expert will not speak directly to the customer. Each pre-scheduled work hour will pay $10 plus potential bonus for successful connections.

Job Requirements:

Connectandsell accelerates the process of connecting to new or existing prospects that companies' sales team are working to close. We do this through a combination of patented switching technology and virtual sales agents so that when we connect to a prospect, the prospect believes that the company's sales rep has made the call.

Connectandsell's agents never speak to prospects directly. This service enables sales reps to spend all of their productive time presenting the product or service.

We appreciate your time into exploring details about our company on our website : www.connectandsell.com.

Required Skills and Experience:

Requirements include:

Excellent Phone Etiquette
Proficiency in English language
Possess professional business telephone communication skills, and excellent verbal, written and interpersonal communication skill
Ability to multi-task
Experience in a fast-paced environment
Prior admin/secretarial experience a plus
Ability to work in a fast paced work environment
No call center experience necessary as Experts will never speak to the target contact
Hard wired connection is required to have at home.
Land Line is necessary (VOIP or Cell can not use.)

Qualifications:

Minimum Education Required: Some College
Years of Experience Required: At Least 1 Year
Expected Travel Time: None
Other Things I Found Out About Connect and Sell
Training is apparently paid.
Payment is weekly via Paypal (see more jobs that pay weekly here).
Pay is actually $9 an hour despite what the job posting above says, but some people average more due to the commission
It's an independent contractor position.
This job was originally offered at LiveOps through their LiveWork platform.
They hire people in small batches.
Feedback
There are some interesting Connect and Sell reviews online. Some people state on various work at home forums I frequent that they enjoy the work and pay is accurate and on time. I also read where another person quit after just one week, not happy with things.
As it is with anything, reviews will vary. You can always do a search on Glassdoor for reviews of Connect and Sell to get an overall feel for what people think of their jobs.
Want to apply?
As stated above, they are not actively hiring for this position right now, but you can always forward them your resume at careers@connectandsell.com so that perhaps they may contact you at some point in the future.
300 More Flexible, Non-Phone Work at Home Jobs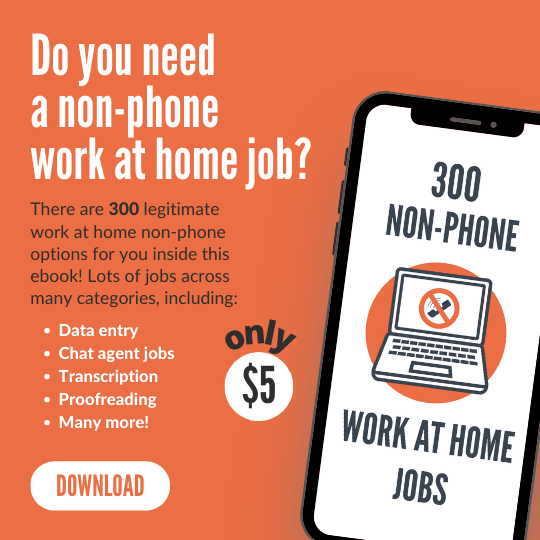 Do you want to work at home but you can't do so using a phone? If so, I have some great non-phone options for you in my latest e-book. It is only $5!
In this book, you'll find links to 300 companies offering different types of non-phone work at home jobs, including:
Data entry
Chat agent operators
Freelance writing
Transcription
Proofreading
Bookkeeping
Search evaluation
Many more!
Each job listing also has a short summary with any relevant information I can find (pay, what countries it may be open to, etc.).
Good luck to you, and I hope you find this ebook helpful if a non-phone job is what you are looking for.
After payment, you will receive the email containing your download.