Do you think you'd enjoy working from home, booking cruises for others? If so, you're in luck because there are a few companies that have regular openings for this type of work.
Keep in mind it's phone work, so all of you non-phone job seekers may not find this is your cup of tea.
Unfortunately not all of these companies are hiring right now, but you may want to keep tabs on them because I've seen the positions come and go regularly.
Most of the positions require either past experience in the industry or past experience in customer service and/or sales.
Another perk? Pretty much all companies hiring people to work from home booking cruises will give employee discounts on any cruises you book through them. 🙂
Good luck! Here is the list:
1 – Cruise.com
Hires home-based cruise sales agents in every state except California and Hawaii.
Two years of recent cruise sales work experience is listed as being required, and some openings (but not all) will require that you're bilingual (English/Spanish).
Pay is base plus commission, and they want you to work in eight hour shifts. Training lasts four weeks, and I believe it may be completed online. As of the date of this blog post, it does appear they are recruiting for these positions.
Go here to check for openings at Cruise.com or here to read our review of this company.
2 – Carnival
Carnival hires virtual sales agents to book and plan cruises for their customers. A high school diploma or equivalent is required.
This position is not always open, but you can check their website using the keywords "work from home" or "vacation planner" in the keyword search box on their jobs page to check for it. As of the date of this blog post, I don't see the position posted but keep tabs because it comes and goes.
Pay is base plus commission, and the company does offer a nice benefits package — including employee discounts on cruises.
Note that some of their vacation planner jobs are in-office while some are work at home. If they're work at home, this should be included in the job description.
Go here to check for openings at Carnival (use "work from home" as your keyword) or here to read our review of the company.
3 – Norwegian Cruise Line
Norwegian Cruise Lines has occasional openings for home-based vacation planners, but these usually require that you live near enough to the office to be able to train there for three months prior to working from home.
Company headquarters is in Miami, FL, but a recent job posting states that candidates must live near Mesa, AZ, so they have an office there, too.
The company prefers if you have a high school diploma or equivalent and some customer service background. Like most of these companies, they have a nice benefits package. Pay is usually $10 an hour or more.
Note that this position is not always home-based. If they have a home-based opening for the vacation planning position, the job description should mention it.
Go here to check for openings at Norwegian or here to see if their jobs are listed at Indeed.
4 – World Travel Holdings
This company has very regular openings for home-based workers to sell luxury cruise and resort vacation packages for 40 major travel brands.
Training is paid and they offer a nice benefits package along with a nice rate of pay. As of the date of this blog post, the company does not appear to have any home-based positions open. However, on their jobs page, they have a way for you to connect and get alerted when the work from home jobs are posted.
Go here to learn more about home-based jobs at World Travel Holdings or here to read our review of the company.
Good luck if you pursue any of the above opportunities.
300 More Flexible, Non-Phone Work at Home Jobs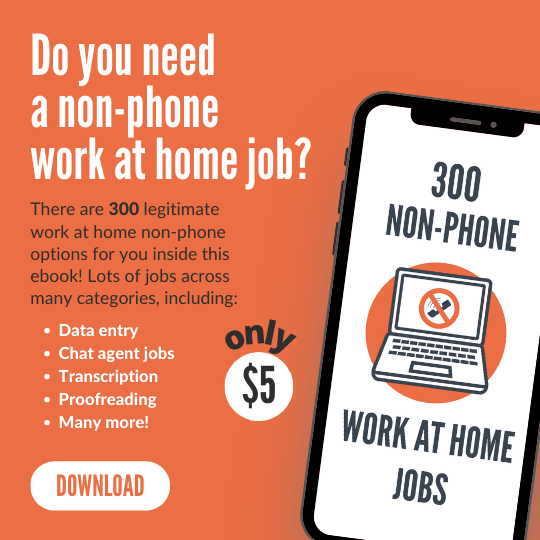 Do you want to work at home but you can't do so using a phone? If so, I have some great non-phone options for you in my latest e-book. It is only $5!
In this book, you'll find links to 300 companies offering different types of non-phone work at home jobs, including:
Data entry
Chat agent operators
Freelance writing
Transcription
Proofreading
Bookkeeping
Search evaluation
Many more!
Each job listing also has a short summary with any relevant information I can find (pay, what countries it may be open to, etc.).
Good luck to you, and I hope you find this ebook helpful if a non-phone job is what you are looking for.
After payment, you will receive the email containing your download.