Some companies are proud of the fact they allow all or most of their workers to telecommute. And then there are other companies that offer work at home jobs regularly, but they don't go out of their way to advertise that fact — possibly because they don't want to get overwhelmed with applications, or because they don't always have home-based jobs.
Today I made list of companies that are always advertising their work at home jobs.
These are all completely legitimate companies, and they make it very easy for you to find all the details about their home-based jobs on their websites.
Unlike other companies, the ones in the following list want you to know they allow working from home and you won't have to jump through hoops trying to find those jobs.
In the list below, I've broken the companies down by category and provided a link to their websites and also our review (if there is one posted).
Phone Jobs
Most of the following companies hire for either customer service, sales, and/or tech support.
You will most likely need some type of headset, a quiet background, and a high-speed Windows-based computer (there may be a few exceptions on that below). The experience you need will vary. Many will require at least a little bit of past customer service and/or sales experience while others may be entry-level.
Chat Jobs
It surprises me that I can never find too many chat-based home jobs, especially since so many companies these days have the little chat pop-up when you land on their sites.
I have a list here with a few others in addition to what's below, but the two below are the main ones with ongoing openings.
Transcription
The following companies are almost always looking for work at home transcribers.
Most will require you to have transcription equipment — a foot pedal and headset. The work is of the flexible, do it whenever you want variety, and you will be working as an independent contractor.
Online Academic Tutoring
The following companies are usually hiring online academic tutors.
Requirements to apply will vary, but in most cases they prefer people who at least have at minimum 4-year college degrees. Some, but not all, will additionally require past teaching or tutoring experience.
Online ESL Tutoring/Teaching
The following companies are usually looking for online ESL (English Second Language) tutors or teachers.
Note you do not need to know another language to get these positions — you just need to be fluent enough in English that you can help non-English speakers become more fluent themselves.
Writing
The following companies usually have openings for writers. You'll notice most of these are content sites — which means a lot of what you do may be ghost writing and also may not pay very competitively.
However, having access to the sites below can help provide a lot of supplemental income. Some people do write for content sites full-time. Another good thing about the companies below is that you can usually get in even without past writing experience.
If you're serious about writing for a living, I'd also highly recommend becoming a part of Carol Tice's Freelance Writing Den. Since 2011, the Den has helped over 14,000 writers grow their income. They offer a junk-free writer's job board, 25 writer bootcamps, 300+ hours of trainings in all, 24/7 forums, live events, and more.
Editing
The following companies usually have an ongoing need for remote editors and proofreaders. The pay is usually pretty competitive, and you'll find that most of these companies will require either past editing experience or a degree before they'll consider you.
Virtual Assistants
You can visit the websites for the following companies at any given time and see that they are advertising for remote virtual assistants.
Just as it is with freelance writing, you can make more money working for yourself as a VA than you generally can working under a large company.
Still, the companies below may come in handy if you need experience as a VA and additional income before making the decision to start your own VA business.
Search Engine Evaluation
These companies almost always have openings, sometimes worldwide rather than just in the US.
You are usually evaluating web search or social media results. Sometimes there may be other types of tasks listed. Pay tends to be competitive, but the downside is that work and projects may come and go, so they are not safe positions to depend on.
You do the work as an independent contractor, and most of these companies also prefer to hire people who have smartphones.
Good luck! I cannot promise that all of these companies are hiring right now, but I can say that they usually are.
300 More Flexible, Non-Phone Work at Home Jobs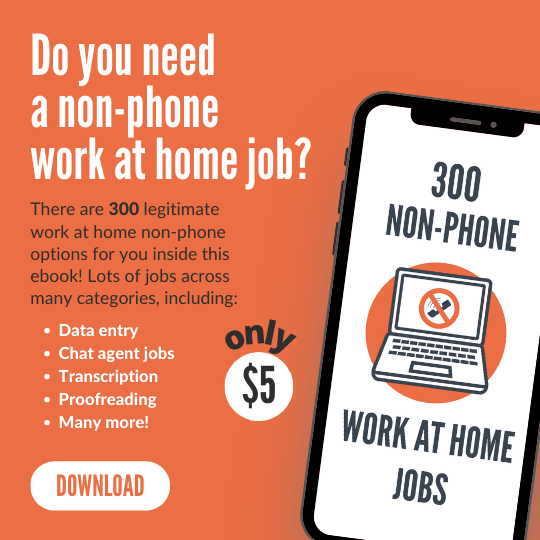 Do you want to work at home but you can't do so using a phone? If so, I have some great non-phone options for you in my latest e-book. It is only $5!
In this book, you'll find links to 300 companies offering different types of non-phone work at home jobs, including:
Data entry
Chat agent operators
Freelance writing
Transcription
Proofreading
Bookkeeping
Search evaluation
Many more!
Each job listing also has a short summary with any relevant information I can find (pay, what countries it may be open to, etc.).
Good luck to you, and I hope you find this ebook helpful if a non-phone job is what you are looking for.
After payment, you will receive the email containing your download.